Luxembourg
Furnished offices
We offer a variety of offices. Renting from our business centers is not just an ordinary rental. It is a cost effective solution for busy executives who will benefit from solutions and services and also rental conditions which are more flexible than traditional agreements. Prestigious locations throughout the country and in the Capital of Luxembourg and a wide variety of office spaces (from 130 to 900 ft2) to suit your specific needs:
Luxembourg city: four business centers with a total of 15 offices;
Southern Luxembourg (at the French border): two office centers with a total 20 furnished offices;
Western Luxembourg (at the Belgian border): two office centers with a total of 12 furnished offices.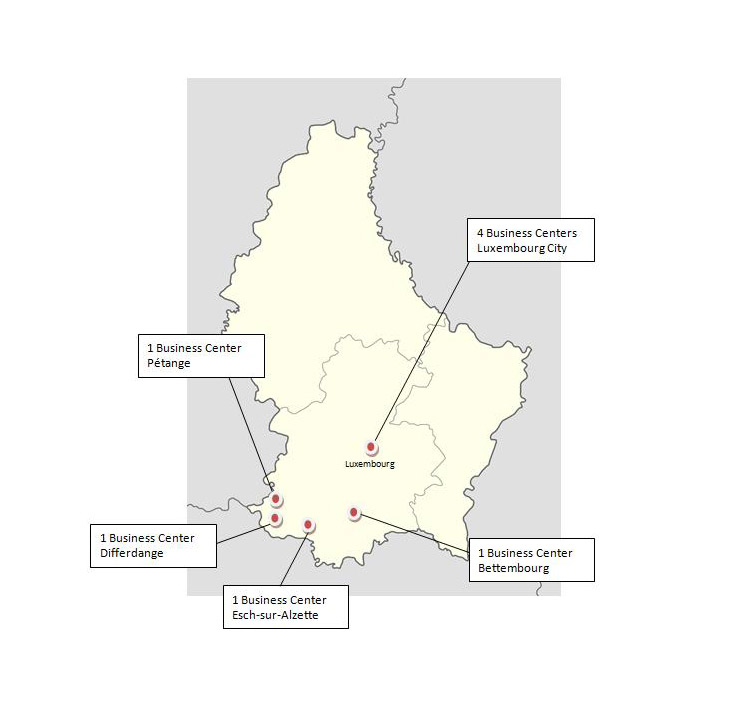 Our offices are furnished in a simple, classic design which reflects the professional image of your corporate identity:
Small offices (from 130 to 215 ft2) include a desk, a comfortable executive desk chair, two or three visitor chairs, shelves, a filing cabinet, a coat rack and a waste basket;
Medium offices (from 215 to 375 ft2) include at least one or sometimes several offices, comfortable executive desk chairs, visitor chairs, a conference table, four to six armchairs, shelves and cabinets, a coat rack and waste baskets;
Large offices (from 375 to 900 ft2) come unfurnished and can be tailored to the taste of the client on request. Exceliance is happy to provide a service to furnish these office spaces.
Concierge services
Our detail-oriented services are designed to assist you in your business:
IT support;
Purchase of computer equipment;
Vehicle cleaning service;
Accounting and bookkeeping service;
Incorporation service;
Interpreting, translation to english;
Administrative support (secretarial services, receptionist services);
Mails;
Shipping and receiving mails;
Organization of appointments;
Catering
All these services are available for clients on request and are not included in our rental rates.
Establishing your domicile in Luxembourg
Making Luxembourg your company head office can be done in two different ways depending on your business' activity:
In some cases (service, commercial and industrial companies), it is necessary to rent a physical office in Luxembourg. Exceliance is able to answer this demand by renting fully furnished offices throughout the country of Luxembourg with a flexible rental schedule.
In other cases (holding companies, Soparfi, VC, OEIC, real estate and temporarily inactive commercial businesses) companies have a choice of either renting an office through Exceliance or establishing your corporate domicile by registering a legal address through an accounting firm, a certified public accountant firm or through a lawyer firm. Exceliance offers its clients a partnership with a firm which is specialized in domiciling your company in Luxembourg.
Luxembourg as your Head Office
The easy and simple way to make Luxembourg your head office is to rent a fully equipped office for all your operations here. We have many different office solutions for your Luxembourg headquarters:
Luxembourg capital;
On the Luxembourg/French border;
On the Belgium/Luxembourg border.
Ready and affordable office solutions for your Luxembourg headquarters:
Office and work stations to suit your budget;
Flexible rental from a day to a decade;
Secure and quiet environment.
Contact
Exceliance
Centre d'affaires Luxembourg
17 avenue Guillaume, L-1651
Luxembourg
Tél: +352 26 25 61 34